Wear Class is a secondary specialist sensory provision. Pupils in this class are in the school years 7 to 13 and many of the pupils have complex learning and medical needs.
The class teacher delivers a Pre-Formal Curriculum which is designed to teach the students about the world they live in, within 'real time'. The curriculum follows the natural circle of the year, using seasonal references and experiences, enabling pupils to revisit and develop ideas, gradually making sense of them and building upon them. The curriculum recognise that each pupil will follow a personal pathway through it depending on the complexity of their need and core learning goals but also on their interests, aspirations and abilities.
The class teacher delivers the majority of the curriculum and is supported by two enhanced teaching assistants (job share) and two teaching assistants (job share).
Wear class love to spend time in the community here are a few of the pictures from activities this term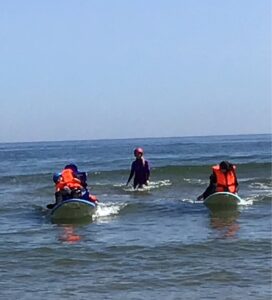 Magical days, surfing at South Shields
Visiting a garden centre to buy some plants for our garden, the fish were a big hit!
A trip to the theatre to be part of the amazing production of Whispering Jungle by Concrete Youth
Making choices for lunch at Haystax café.
Long Term Planning
To view the long term planning for all of our Pre-Formal classes please click the document below.